Program for Financing of Processing Industry Projects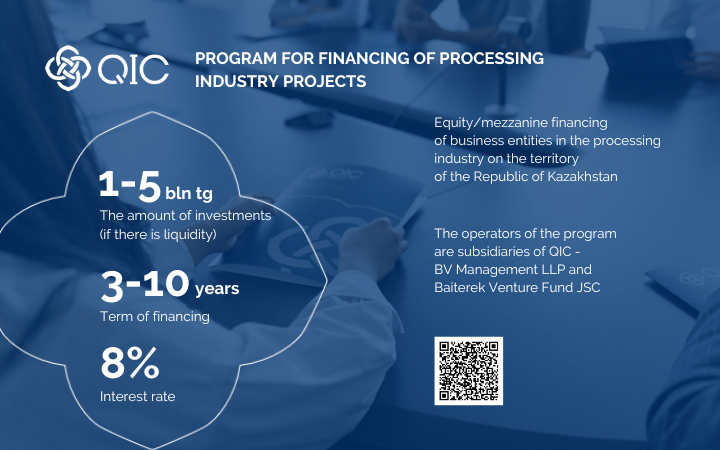 Qazaqstan Investment Corporation announces the launch of program for financing of processing industry projects within the framework of the Concept of Industrial and Innovative Development of the Republic of Kazakhstan.
The main areas of investment:
Investments in newly created enterprises that plan implementation of investment projects;
Investments in existing enterprises requiring an increase in and/or modernization of existing capacities;
Investments in existing enterprises that require a reduction in the debt burden and/or an increase in working capital;
Investments in holding companies, which include one or more operating enterprises with stable financial indicators, in order to implement a new investment project.
Basic conditions of financing:
The implementation period - up to 2032.
The investment period - until 2029.
Geography of investments – investment projects in the territory of the Republic of Kazakhstan.
The amount of investments - from 1 to 5 billion tenge (if there is liquidity).
Term of financing - from 3 to 10 years.
Interest rate - 8% per annum.
Investment tools: Equity/mezzanine financing.
Currency of financing - tenge.
Counter obligations:
Inclusion in a Single Industrialization Map.
Jobs and wages.
Kazakh content.
The operators of the program are subsidiaries of QIC - BV Management LLP and Baiterek Venture Fund JSC.
If you have any questions please contact:
BV Management LLP
+7 (7172) 554-222 (ext. 706,707,708,709)
Baiterek Venture Fund JSC
+7 (7172) 554-222 (ext 602,603)